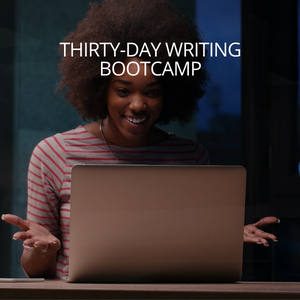 All About Writing
Thirty-day Writing Bootcamp
Regular price
$72.00
$0.00
Unit price
per
Tax included.
This self-guided programme will make you a better writer and help you establish a writing discipline. Explore your creative self with no pressure and no-one looking over your shoulder.  
Receive advice from writers who understand what you need, creative stimulation and writing practice by email every day for 30 days. 
You have the option to upgrade to receive personal written feedback on your final exercise.
Date
:
 Start today!
Live Zoom sessions: 11, 18, 25 January and 1 February 16:00 to 17:00 UK / 18:00 to 19:00 SA
Time
:
 Each module will take you 30 to 60 minutes a day for 30 days
Where: On our online learning platform
What exactly is the Thirty-day Writing Bootcamp?
It's a self-guided programme that can be slotted into a busy day

 

It's designed to make you a better writer and help you establish a writing discipline

 

It will give you daily writing practice and advice from writers who understand your needs

You'll receive a new lesson, which includes a writing exercise, each day via email

Each lesson can be completed in 30 to 60 minutes.

It provides a fresh and practical look at hands-on writing skills

It's a reminder of the fundamentals that often get forgotten, but which can transform your writing

It focuses on the bricks and mortar of writing
Course overview
The course is divided into four themes. Each theme will be explored over seven days. Each day's advice is finished with an exercise. On the seventh day of each week, the exercise will touch on many, if not all, of the lessons contained within the theme. 
How well do you wield it, and what simple rules can you observe that will improve the power of your writing? 
Theme 2: Active observation and expression  
We'll suggest ways to translate observation into words that add a sense of reality and drama to your writing. 
Theme 3: Voice – the voices of your characters
We look at ways to develop their voice and personality in a way that allows your readers to empathise and identify with them.   
How to write them well, in a way that serves your narrative. 
Why should you do this course?

 
Just as good health demands that you keep your body fit, research has shown that exercising your creativity reduces stress and stimulates the mind. With no-one looking over your shoulder, you can take part in a daily exercise programme that will also improve your writing and create a daily writing discipline. 
How can you use the course?
Each module is designed to be completed in 30 to 60 minutes. Slot that time into your busy day and you'll see the benefits – to your writing and your stress levels. 
Course designers and facilitators:
The course designers and facilitators are Jo-Anne Richards and Richard Beynon who established All About Writing in 2007. They are highly skilled writing trainers and mentors and run a number of writing programmes.  
They have advised hundreds of writers on their work through their creative writing courses, workshops, webinars and retreats. They've mentored scores of writers through the writing process – and have won the trust of publishers who frequently call on them for help with both manuscripts and writers.  
Jo-Anne is an internationally published novelist with a PhD in Creative Writing from Wits University and is one of South Africa's best-known writing trainers. Jo-Anne has published five novels: The Imagined Child, The Innocence of Roast Chicken (rereleased in 2019, as part of the Picador Africa Classics collection), My Brother's Book,  Touching the Lighthouse and Sad at the Edges. She has supervised Creative Writing Masters students at Wits and UCT, and acted as examiner for both programmes.  
Richard Beynon is a sought-after mentor and story consultant with a writing career spanning 50 years. Richard has written for – or headed the storytelling teams of – many of South Africa's country's most popular soaps, dramas and comedies. These include S'gudi snaysi, Going Up, Soul City, Isidingo, Scandal, Rhythm City and Isibaya. He has conceived, shaped and written scores of documentaries and has won numerous awards for his work specifically in comedy, soap and children's drama.  
---